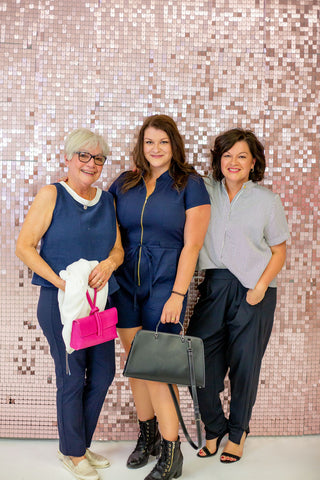 FEMALE-OWNED. FAMILY-RUN. FRIEND-FUELLED.
TAYLOR DANIELLE CELEBRATES CANADA'S TALENTED DESIGNERS WITH CURATED COLLECTIONS FOR EVERY WOMAN.
A SHOPPING EXPERIENCE
TAYLOR DANIELLE WAS FOUNDED IN 2021 BY DANIELLE REDNER AND HER DAUGHTER, TAYLOR RATH, WITH A FOCUS ON CANADIAN DESIGNERS.
SINCE THEN, TD HAS GROWN AN ARMY OF DEDICATED FOLLOWERS WHO TUNE-IN FOR THE LATEST STYLE DROPS, LIVE 3 TIMES WEEKLY ON INSTAGRAM.
TAYLOR DANIELLE'S COMMITMENT TO QUALITY SEEPS THROUGH EVERY FACET OF OUR COMPANY -YOU'LL SEE IT IN YOUR IMPECCABLY WRAPPED PURCHASE - SHIPPED WITH LOVE BY GRANDMA MYRNA; IN THE HANDWRITTEN THANK YOU NOTE, PENNED BY GRANDPA JACK; AND BY THE COMMUNITY OF AMAZING WOMEN AND TD MODELS WHO SHOWCASE THE BEST CANADIAN FASHION HAS TO OFFER.
WELCOME TO OUR FAMILY... XO
"If shopping tv, social media, and your favourite designer boutique had a baby, this is what it would look like..."